Back Row: Travis Mockler, Micheal Manning.
Front Row: Phyllis Packard, Leo Powell, and Richard Hammond.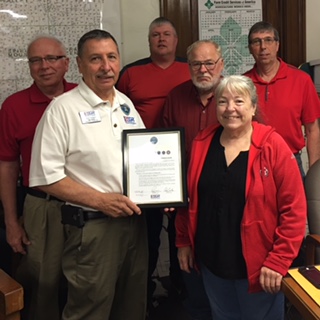 Clay County Commissioners and Donald Kelpin of Employer Support of the Guard and Reserve with employer support proclamation signed on May 9, 2017.
Clay County Commissioners
211 W. Main St., Suite 200
Vermillion, SD 57069
To obtain a time slot on the agenda, or for any information, please call (605) 677-7120.
The Clay County Board of Commissioners meet in regular session on the first, second, and last Tuesdays of each month. If you want to make an appointment to meet with them please do so the Friday before the meeting.
Contact Information - Individual Commissioners
AGENDAS AND NOTICES:

August 14, 2018
APPROVED MINUTES:

July 10, 2018 Special Meeting
July 10, 2018
July 3, 2018
June 26, 2018
June 7, 2018
May 29, 2018
May 8, 2018
May 1, 2018
April 24, 2018
April 10, 2018
April 3, 2018
March 27, 2018
March 13, 2018
February 27, 2018
February 13, 2018
February 6, 2018
January 30, 2018
January 9, 2018
January 2, 2018
December 28, 2017
December 12, 2017
December 5, 2017
November 28, 2017
November 14, 2017
November 7, 2017
October 31, 2017
October 10, 2017
October 3, 2017
September 26, 2017
September 5, 2017
August 29, 2017
August 8, 2017
August 1, 2017
July 25, 2017
July 11, 2017
July 6, 2017
June 27, 2017
June 13, 2017
June 6, 2017
May 30, 2017
May 25, 2017 Public Hearing
May 17, 2017 Special Meeting
May 9, 2017
May 2, 2017
April 25, 2017
April 11, 2017
April 6, 2017 Special Meeting
April 4, 2017
March 24, 2017 Special Meeting
March 21, 2017
March 7, 2017
February 28, 2017
Annual Ditch Board Meeting 2/14/17
February 14, 2017
February 7, 2017
January 31, 2017
January 10, 2017
January 3, 2017
December 27, 2016
December 13, 2016
December 6, 2016
November 29, 2016
November 22, 2016
November 10, 2016
November 1, 2016
October 25, 2016
October 11, 2016
October 4, 2016
September 27, 2016
September 15, 2016
September 6, 2016
August 29, 2016
August 15, 2016
August 9, 2016
August 2, 2016
July 26, 2016
July 12, 2016
July 5, 2016
June 28, 2016
June 14, 2016
June 9, 2016
May 31, 2016
May 10, 2016
May 3, 2016
April 26, 2016
April 12, 2016
April 5, 2016
March 29, 2016
March 14, 2016
March 8, 2016
March 1, 2016
February 23, 2016
February 9, 2016
January 26, 2016
January 14, 2016
January 12, 2016
January 5, 2016
December 29, 2015
December 8, 2015
November 24, 2015
November 10, 2015
November 3, 2015
October 27, 2015
October 13, 2015
October 6, 2015
September 29, 2015
September 8, 2015
September 1, 2015
August 25, 2015
August 17, 2015
August 11, 2015
August 4, 2015
July 28, 2015
July 14, 2015
July 7, 2015
June 30, 2015
June 9, 2015
June 2, 2015
May 26, 2015
May 12, 2015
May 5, 2015
April 28, 2015
April 14, 2015
April 7, 2015
March 31, 2015
March 10, 2015
March 3, 2015
February 24, 2015
February 10, 2015
February 3, 2015
January 27, 2015
January 13, 2015
January 6, 2015